The problems and defects of
ERW steel pipes
are related to raw materials, production methods, process conditions, equipment status and personnel. Product defects that occur in the production process due to the above factors and restrictions.
This kind of product defects can be roughly divided into two categories: one is product defects, that is, the defects in the product itself are inconsistent with the product standards; the first type of defects generated during the production process does not form the requirements of the product standard items, but is also the product quality The problem, its development trend will inevitably lead to product defects. Therefore, such defects are not allowed in the production process.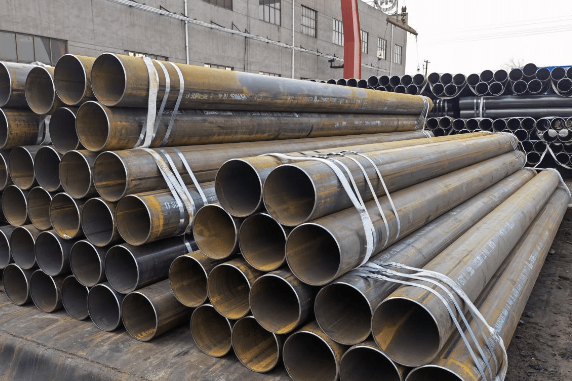 Process defects
No burr: burr welds. Outer burr is generally better when the watertight test water pressure. But for Ling, bending, flattening test, weld most cracking.
Peach tip: weld at no glitches, and recessed within the wall, forming the tip shape of peaches, try water pressure when water-tight. But bending, flattening test, weld multiple cracking. Within the burr unilateral: watertight seam burr for the side extrusion test water pressure. Bending, flattening test, sometimes cracking.
Burnt: the outer surface of small pits in the weld, welding sparks a lot of splash, the microstructure observed small holes watertight when the test water pressure, bending, flattening test, most will not crack, but the impact on the intensity of use and life expectancy.
Weld defects
Opening: straight weld plate edge face melting traces or melting traces without welding, crack two tip along the weld direction, expansion, penetrate the inner surface of the test water pressure, leaking.
Crack: micro-crack crack; the outer surface of the visible appearance of fine lines, the inner surface of intact, no leakage in the test water pressure, but when crushed or cold-formed crack.
Lap welding: two edge dislocation in the welding, scraping, except burrs can still see the obvious one side higher and exceed the wall thickness of the negative deviation.
Surface defects
Scratch: the general was the axis of the straight channels and scratches, deeper than the wall thickness of the negative deviation of scrap defects in the weld on both sides of a continuous nail-shaped scratch. Super wall thickness of the negative deviation. Waste big flaw.
Correction hurt: the leveler spiral crushed obviously feel more than the wall thickness of the negative bias of - waste defect.
Pockmarked face: the tube surface successful piece punctate small pits with a diameter of about 1mm.
Warp: the pipe surface warping the separation of the part and the metal substrate into pieces, not continuous, spalling can not afford.
Go here if you are looking for the "ASTM A53 Steel Pipe Specifications".