Submarine Cable Protection Cable Tube, Articulated Pipe
Introduction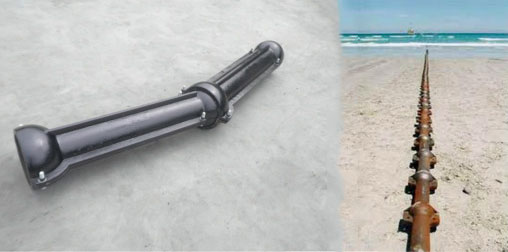 The submarine cable protectors are formed out of two identical half-shells which form a self-locking articulated pipe. For a quick installation the Cable Protection System can be installed boltless, It is also possible to use bolt to increase strength further.
Specifications:
1.Materal: Ductile Iron
2.Size: 50mm-300mm and Per Your Requirement
3.Wall thickness: 8mm-20mm and Per Your Requirement

4. Surface Treatment:Bitumen Painting
(Also We can design and manufacture different size of Articulated Pipes to suit different cable size with minimum bending radius requirements.All products can be customized )
Ductile Articulated Pipes are cast Iron steel pipes for the purpose of protecting Submarine Telecommunication, Umbilicals and Power cables from mechanical and/or vessel anchor dragging.It is usually installation in tidal zones and in hard seabed areas where submarine cable burial is not possible leaving the cable exposed and at high risk of damage.
Uses:
The Cable Protection System has been designed as a simple and cost effective cable protection system for areas where conventional burial or trenching methods prove to be uneconomical or not achievable due to bottom conditions. During installation can either be fitted directly to the submarine product and floated-out or can alternatively be installed by divers once the submarine product has already been laid.