High-frequency straight seam resistance welded steel pipe
,
abbreviated as ERW
, is a hot-rolled coil that is formed by a forming machine, and uses the skin effect and proximity effect of high-frequency current to heat and melt the edge of the tube blank, and press it under the action of a squeeze roller Welding to achieve production. At present, in the world's output of welded steel pipes, the output of ERW welded pipes accounts for about 80% of the total output of welded pipes.
The size of
ERW pipe
is between 1/2 and 24 inches, and there are carbon steel (the most common specification is ASTM A53) and stainless steel (ASTM A312). In terms of size, ASME B36.10 and ASME B36.19 are the key reference specifications (API 5L for welding ERW pipelines).
In the past few years, due to modern welding technologies (such as HFI and HFW, high frequency welding) adopted by ERW pipe manufacturers, ERW pipes have become an effective substitute for seamless pipes in terms of price and performance. Over time, these advances in welding technology have reduced the technical advantages of seamless pipes and ERW pipes, at least in some applications (medium/low pressure and medium temperature) they are interchangeable. Of course, seamless steel pipes will always benefit from the inherent superior mechanical strength of billets compared to coils and plates.
ERW Pipe Manufacturing Process
ERW pipes are manufactured starting from steel coils, that are at first uncoiled, cut, processed, welded, and tested as shown in the picture below.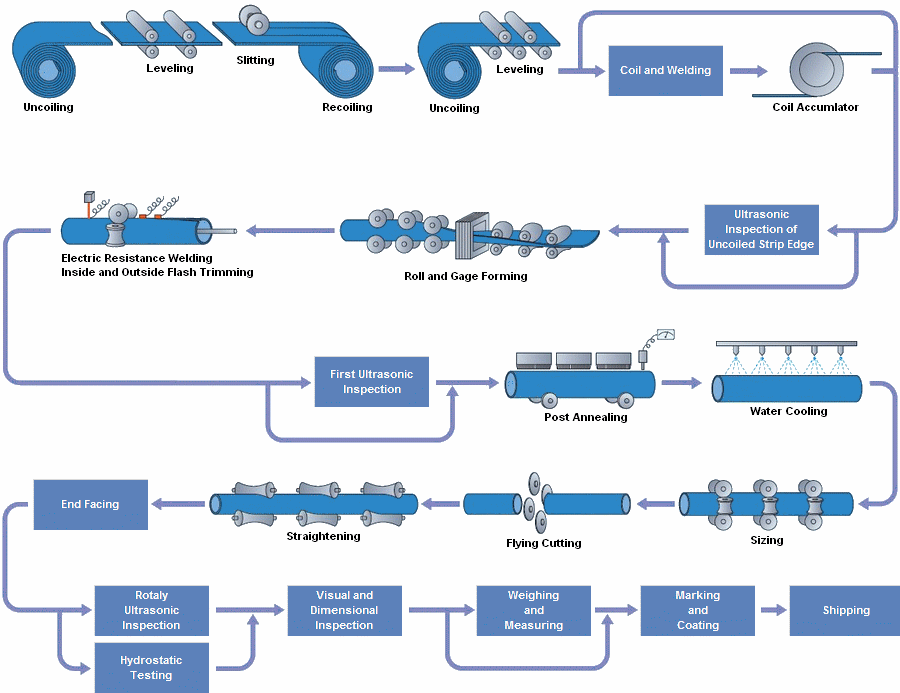 The most common welding technique used for oil and gas pipes is the so-called "high-frequency induction technology" (ERW-HFI), consisting in the application of an induction current on the outer surface of the pipe able to generate a robust seam weld and join the two sides of the steel coil very tightly.
Tips: ASTM A53 covers seamless and welded steel pipe with nominal wall thickness. The surface condition is usually black and hot-dipped galvanized. ASTM A53 is produced mainly for pressure and mechanical applications, and is also used for transport of steam, water, gas line pipes.

ASTM A53 Grade B is the material under the American steel pipe standard, API 5L Gr.B is also the American standard material, A53 GR.B ERW refers to the electric resistance welded steel pipe of A53 GR.B; API 5L GR.B Welded refers to the material Welded steel pipe of API 5L GR.B.