A53 ERW Pipe, A53 Grade B ERW, A53B ERW Pipe, Grade B A53 Welded Pipe, ERW Steel Pipe Supplier, Exporter

ASTM A53 Grade B ERW Pipe is a carbon steel pipe that comes under the ASTM A53 specification. The pipes range in dimensions according to the ASTM, ASME and API standards. The sizes of the pipes range from ½ inches to 24 inches in nominal bore sizes.

Specifications: ASTM A53, ASME SA53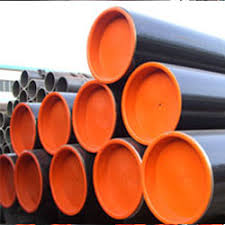 Dimensions: ASTM, ASME and API
Type: Seamless / ERW / Welded / Fabricated
Size: Out Diameter:1/2"-24"
Wall Thickness: 1.65-20mm
Thickness: 3-12mm
Schedules: SCH 40, SCH 80, SCH 160, SCH XS, SCH XXS, All Schedules
Length: 3-12m, or according to customer's requirement
End: Plain End, Beveled End, Treaded
ASTM A53 B ERW Steel Pipe covers the following types and grades:
Type E— Electric-resistance-welded, Grades A and B
Grade and Chemical Composition (%) Of ASTM A53 Grade B ERW Steel Pipe



Type




Grade
C≤
M≤
P≤
S≤
Cu≥
Ni≤
Mo≤





Type E

(electric-resistance welded)

A
0.25
0.95
0.05
0.045
0.4
0.4
0.08
B
0.3
1.2
0.05
0.045
0.4
0.4
0.08
Mechanical Properties Of ASTM A53 Grade B ERW Steel Pipe
| | | | | |
| --- | --- | --- | --- | --- |
| Grade | Rm Mpa Tensile Strength | Mpa Yield Point | Elongation | Delivery Condition |
| A | ≥330 | ≥205 | 20 | Annealed |
| B | ≥415 | ≥240 | 20 | Annealed |
ASTM A53 Grade B ERW Steel Pipe Application
1. Architecture: maximum pipeline under more groundwater extraction when towers, boilers, hot water conveyance and so on.
2. Machining, bearing sets, processing machinery and other accessories.
3. Electrical class: gas distribution, water power fluid conduit.
4. Anti-static tubes wind power plants.
Permanent Steel Manufacturing Co.,Ltd has a full range of stock in ASTM A53 steel pipe (ASME SA53 steel pipe).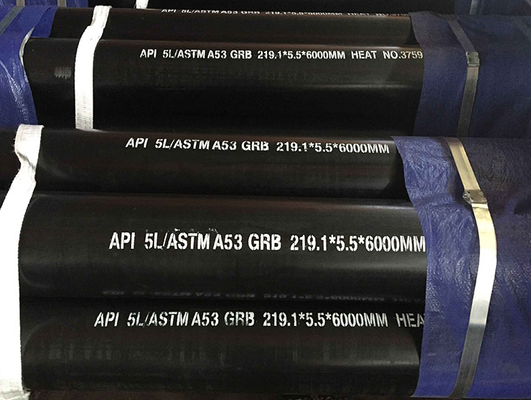 Expand information:
A53 pipe comes in three types (F, E, S) and two grades (A, B).
A53 Type F is manufactured with a furnace butt weld or may have a continuous weld (Grade A only)
A53 Type E has an electric resistance weld (Grades A and B)
A53 Type S is a seamless pipe (Grades A and B)
ERW Pipe Manufacturering Process:
Straight seam high frequency welded pipe (ERW) is formed by forming a hot-rolled coil through a forming machine. The skin effect and proximity effect of high-frequency current are used to heat and melt the edge of the pipe blank. Pressure welding is carried out under the action of a squeeze roller. Realize production. Welded steel pipes have simple production process, high production efficiency, many varieties and specifications, and less equipment, but their general strength is lower than seamless steel pipes.