ASTM A53
- Black or Hot-Dip Galvanized, Welded & Seamless Steel Pipe
ASTM A123
- Zinc (Hot-Dip Galvanized) Coatings on Iron and Steel Products
ASTM A153 - Zinc Coating (Hot-Dip) on Iron and Steel Hardware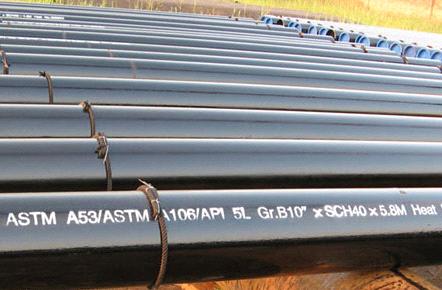 First, there is a difference between ASTM A153 and
ASTM A53
. Companies that specialize in galvanizing pipes are familiar with the ASTM A153 specification ("Standard Specification for Hot-Dip Zinc Coating of Iron and Steel Hardware").
Section 17 of the more general ASTM A53 specification specifies the requirements for galvanized pipes, that is, the pipe is required to be hot-dipped galvanized in accordance with the B6 specification (standard specification for zinc) and a minimum weight of zinc is specified. The unit area of the coating.
The ASTM A53 specification does not set requirements related to the surface treatment, appearance or adhesion of galvanized coatings, but is clearly defined in the ASTM A123 specification (standard specification for zinc, hot-dip galvanized, steel product coating).
In addition, the weight per unit area of the coating defined in the ASTM A53 specification corresponds to the minimum coating thickness requirement of ASTM A123. Therefore, in terms of galvanized coatings, the ASTM A123 specification is more stringent than ASTM A53. Whenever pipes are galvanized according to ASTM A123, it also meets the requirements of ASTM A53 Section 17.
Grade A53 pipe is the standard specification for black and hot-dripped galvanized pipe. This material can be either welded or seamless steel pipe. A53 pipe (
A53b ERW
) also comes with various yield and tensile strengths (see below). The intended purpose of this material is for mechanical and pressure applications, including for steam, water, air, and gas line purposes. ASTM A53 can be formed and welded. This pipe is all-purpose and can be used in generator plants, refineries, compressor stations, natural gas transmission, and steam conduction (PMC).
A53 pipe is subject to tension bend and flattening tests, as well as a hydrostatic test. In addition, the material must also pass a non-destructive electric test. A53 Grade pipe undergoes the galvanization process, which means the pipes are dipped into molten zinc to coat the pipe with a protective layer that will not rust. This process helps prevent aging and rusting of the steel since zinc deteriorates much slower than steel
A53 Grade Tensile Strength Yield Strength
CW 25,000 45,000
Grade A 30,000 48,000
Grade B 35,000 60,000