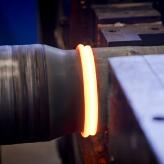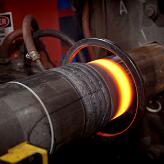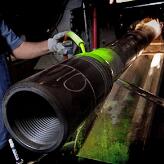 Grades: E75, X95, G105, S135
Drill Pipe
2-3/8" to 7-5/8" OD, Range 2 and 3

Heavy Weight
2-3/8" to 6-5/8" OD, Range 2 and 3

Drill Collars
2-7/8" to 14"
Connection threads: NC26, NC31, NC38, NC40, NC46, NC50, 5 1/2FH.6 5/8FH.
Internal Upset: IU, EU, IEU

Heavy weight drill pipe is a medium-weight drilling pipe, (referred standards in API SPEC 7-1). It has bigger wall thickness than common drilling pipe and smaller than drill collar.
Mechanical Properties API Steel Drill Pipe
| | | | | |
| --- | --- | --- | --- | --- |
| Grade | E-75 | X-95 | G-105 | S-135 |
| Yield Strength (minimum psi) | 75,000 | 95,000 | 105,000 | 135,000 |
| Yield Strength (maximum psi) | 105,000 | 125,000 | 135,000 | 165,000 |
| Tensile Strength (minimum psi) | 100,000 | 105,000 | 115,000 | 145,000 |