Carbon Steel ERW Manufacturer, CS Pipes, Carbon Steel ERW Pipe Supplier, Exporter

Permanent Steel Manufacturing Co.,Ltd is a well-known manufacturer of Carbon Steel ERW Pipes, which is known for Precision engineered, Light weight, Corrosion resistance, Structured appropriately, Intricate detailing, Economical, and more. We have set an example in terms of quality and performance by manufacturing and supplying CS ERW Pipes, which are primarily used in heavy manufacturing industries for their high strength and pressure bearing capacity. Our clients can avail from us a comprehensive range of these Carbon Steel Electric Resistance Welded Pipes that are manufactured in line with the prevailing industry standards. We are listed at the pinnacle for supplying and trading utmost quality CS Electric Resistance Welded Pipes, which is well-inspected for its finishing before it is delivered to the clients. Our Carbon Steel ERW Tubes is often used in industries like Automobile, Boilers & Pressure Vessels, Ship Building, Railways, Transmission Towers, Oil & Petro Chemicals, Coal & Mining, General & Heavy Engineering, and more.

Carbon Steel ERW Pipes Specifications

Carbon Steel ERW Pipe are available in different grades and standards. Some of the standard features these are made available in include.
Standard: ASTM 5L, ASTM A53, ASTM A178, ASTM A500/501, ASTM A691, ASTM A252, ASTM A672, EN 10217
Out Diameter:1/2"-24"
Wall Thickness: 1.65-20mm
End : Plain End, Beveled End, Treaded
Length : 3-12m, or according to customer's requirement
Schedules : SCH 40, SCH 80, SCH 160, SCH XS, SCH XXS, All Schedules
Materials : Q235, Q345, A53B, A106B, API 5L B, X42, X46, X52, X60, X65
ASTM A53 covers seamless and welded steel pipe with nominal wall thickness. The surface condition is usually black and hot-dipped galvanized. ASTM A53 is produced mainly for pressure and mechanical applications, and is also used for transport of steam, water, gas line pipes.
A53 pipe comes in three types (F, E, S) and two grades (A, B).
A53 Type F is manufactured with a furnace butt weld or may have a continuous weld (Grade A only)
A53 Type E has an electric resistance weld (Grades A and B)
A53 Type S is a seamless pipe and found in Grades A and B)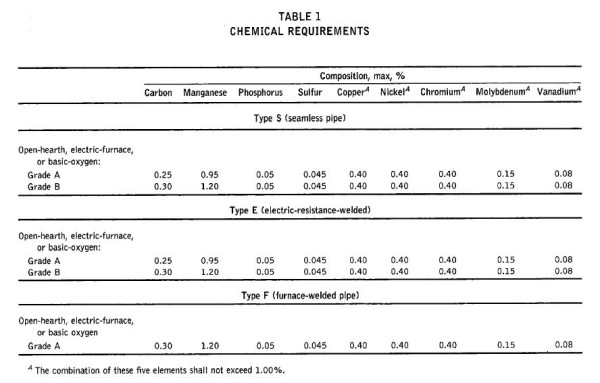 Uses:
For ERW Line Pipe
For ERW Casing
For ERW Structure Tube
For High pressure and high temperature