Seamless Black Pipe, Black Steel Pipe Schedule 40 Seamless, Black Steel Pipe Schedule 80 Exporter
What are black steel pipes?
Black steel pipe is made up of steel that has not being galvanized. Its name comes from the skin, dark-colored iron oxide coating on its surface. It is used in applications that does not requires galvanized steels. Black steel pipe's strengths makes them ideal for transporting gas and water in urban and rural areas and also for conduits that protect electrical wiring and for delivering high pressure air and steams. The petroleum and oil industries uses black steel pipes for moving large quantities of oil through remote areas. This is favourable, since black steel pipes requires very low maintenance.Other uses for black steel pipes include gas distribution inside and outside homes, sewage systems and water wells. Permanent Steel Manufacturing Co.,Ltd is one of the large suppliers & exporters for high quality Seamless Black Steel Pipe Material.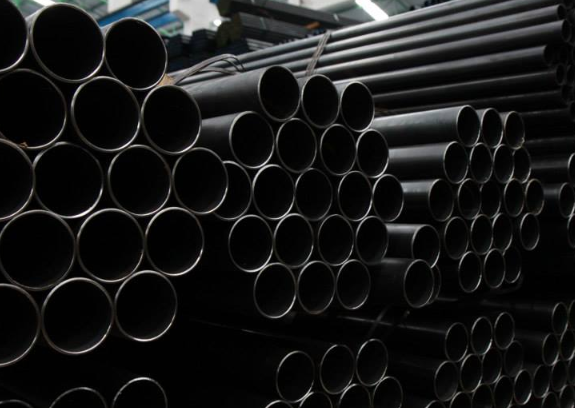 How are black steel pipes different from other types of steel pipes?
Steel pipes are produced by two distinct methods that would eventually result in either a welded or seamless pipe (ASTM A106). In both methods, raw steel is first cast into a more workable starting form. Then it is made into a pipe by stretching the steel out into a seamless tube or forcing the edges together and sealing them with a weld.
The selection of a pipe is dependent not only on its properties or chemistry but also its price. The cost for carbon steels sees a marked reduction due to a lack of elements present in their alloy. Though carbon steel pipes are less expensive, their method of production also accounts for a fraction of their cost. For instance, the production of a Carbon Steel Seamless Pipe is more because the process is a complicated and a longer one in comparison to a welded type. However, price is not the only factor that distinguishes them. For instance, a welded pipe has a longitudinal seam that is absent in a Carbon Steel Seamless Pipe.
The presence of a seam could be problematic in some instances. For example, in the presence of high pressure, there could be chances of a welded seam failing and if not properly welded, it could get corroded on the seam area. In such cases, Carbon Steel Pipe manufacturer in China recommends using a seamless pipe. Not only are they strong and hard, but they are also capable of withstanding a pressure of more than 20% in comparison to their welded counterpart. Moreover, welded pipes have better resistance to intergranular corrosion due to the absence of a seam on their body. While there may not be many differences visible between both Sch 40 Seamless Carbon Steel Pipe and a welded type, the later is stronger than the latter. Non galvanized steel is referred to as black steel. Usually, black steel is used in the manufacture of a seamless Carbon Steel Black Pipe. The scaly, dark-coloured ferrous oxide coating film on the surface of these pipes gives them some sort of resistance to corrosion as opposed to regular carbon steel. Hence the need for galvanization is eliminated.
Black Seamless Steel Pipe Specification:
| | |
| --- | --- |
| Finish | Black (Coated) |
| Nominal Pipe Size | 1/2"-32" |
| Schedule | SCH 40 |
| Length | 5.8m,6m,11.8m,12m |
| Metal | Steel |
| Type | Pipe |
| Features | High Strength, Corrosion Resistant, High Toughness and Deformability |
Carbon steel that is fully killed has no free oxygen in its alloy. To simply put it, deoxidized or fully killed steel is produced devoid of oxygen with the addition of an agent prior to being cast. Therefore, the lack of oxygen does not promote the evolution of gas during solidification of the alloy. Which means that the Fully Killed Carbon Steel line pipe not only exhibits an unusual degree of chemical homogeneity but is also liberated from gas porosities.