The 3PP means three layers of PP coating.
PP three-tier structure of anti-corrosion pipeline: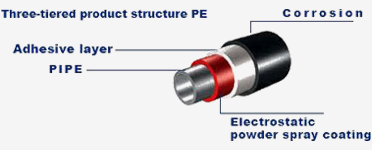 the first layer of epoxy powder (FBE50 - 100um), 
the second adhesive (AD) 250 - 400um, 
the third layer of polypropylene (PP) 1.4 - 4.0mm. 
Coating temperature up to 110 degrees.
Diameter 
Φ159 - Φ1220
Standards
DIN30678
Application
Widely used in high surface temperature, according to the region longer underground water, gas, oil pipelines.

Production process
Pipe inspection → Derusting Test Pipe driving→ Secondary dedusting → Preheating→ Epoxy powder coating→ Gluing→ Painting PP→ Cooling stereotypes→ Ends processing final test Stacking.