API 5CT Grade N80 oil casing pipe is a high-strength and high-toughness carbon seamless steel pipe. The commonly used methods are: quenching and tempering (including direct quenching + tempering after rolling), normalization, normalization + tempering, and tempering after rolling. fire. 36Mn2V is a kind of steel for the production of N80 grade petroleum casing, which is a micro-alloyed non-quenched and tempered steel. The steel is suitable for processing by methods such as temperature control, cooling control and deformation control, and the steel pipe can achieve the required performance without quenching and tempering, thereby simplifying the production process and reducing the manufacturing cost of the steel pipe.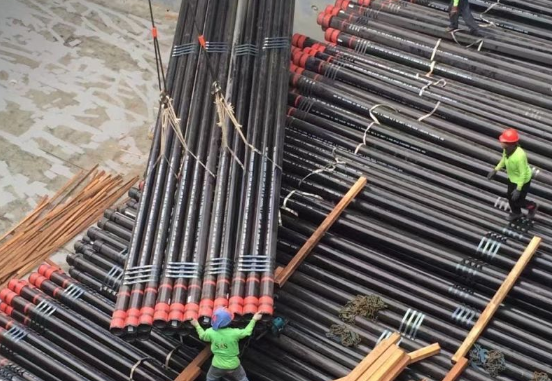 N80 oil casing is an important equipment for oil drilling. In order to meet the needs of different environments and different enterprises, there are multiple types of N80 oil casing. Including direct connection button oil casing, small diameter thin wall oil casing, outer thickened oil casing, large diameter oil casing, partial trapezoidal spiral casing, short round button oil casing, long round button oil casing. Among them, the performance parameters of N80 petroleum casing are elongation 0.5%; yield strength 552--758MPa; tensile strength 689MPa.
Machinable sleeve specifications: 4-1/2'', 5'', 5-1/2'', 6-5/8'', 7'', 7-5/8'', 8-5/ 8'', 9-5/8'', 10-3/4'', 11-3/4'', 13-3/8'', 16'', 18-5/8'', 20' '.
Steel grade: J55, K55, N80-1, N80Q, L80-1, P110, L80-3CR, 9CR, 13CR, P110-13CR (Super 13CR), 28CR, etc.
Button type: short round button (STC), long round button (LTC), partial ladder button (BTC), and various special buttons with high air tightness.
Production process: hot rolling
Product use: used for oil well drilling
Packing method: steel belt/steel frame, or according to customer requirements.
Go here if you are looking for " J55 vs N80"