ASTM A234
standard steel
pipe fittings
have been widely applied in pipeline systems, it includes carbon steel and alloy steel material.
What is Steel pipe fittings?
Steel pipe fitting are made of carbon steel or alloy steel pipe, plates, profiles, to a certain shape that could make a function (Change the fluids direction or rate) in pipeline systems. Mostly these fittings includes steel elbow (45 or 90 degree bend), tee, reducer (concentric or eccentric reducer), cross, caps, nipple, flanges, gasket, studs and etc.
For industrial purposes, in pipeline systems usually we need to change the transmission direction; Adjust fluids (oil and gas, water, slurry) flow rate; Open or close the pipelines, etc. So to complete these activities, steel pipe fittings will be applied.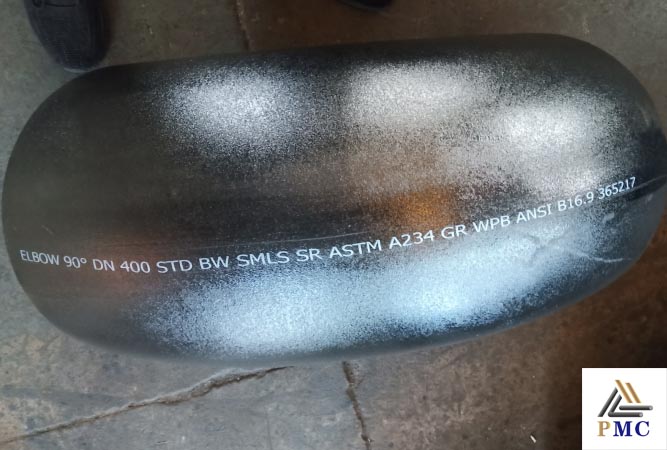 What is ASTM A234 WPB?
ASTM A234 is Standard Specification for steel pipe fittings includes
carbon steel
and alloy steel material for moderate and high temperature services. It covers steel fittings of seamless and welded types. Steel Pipe fittings are applied in pressure pipelines and in pressure vessel fabrications. These fittings material consist of killed steel, forgings, bars, plates, seamless or HFW (fusion welded) pipe products, with filler metal added.
ASTM A234 includes wrought carbon steel and alloy steel fittings of seamless and welded construction covered by the latest revision of ASTM B16.9, B16.11, MSS-SP-79, MSS-SP-83, MSS-SP-95, and MSS-SP-97. etc.
As we know, ASTM A234 steel pipe fittings are used in pressure piping and in pressure vessel fabrication, for services at moderate and elevated temperatures. The fittings material in this standard consist of killed steel, forgings, bars, plates, seamless or fusion-welded tubular products with filler metal added.
In this standard it covers the specification of elbows, tees, reducers, caps and cross, it usually adopt butt welding ends.
ASTM A234 steel pipe fittings dimensions
Standards: ANSI /ASME B16.9, B16.28, MSS-SP-43.
Outer Diameter Range: 1/2" to 48"
Thickness Range: SCH 10, sch 20, SCH 40, SCH STD, SCH 80, SCH XS, SCH 160, SCH XXS etc.
Steel pipe fittings manufacturing types in forged, threaded, butt weld, and seamless.
Grades in ASTM A234:
ASTM A234 specification has many grades, such as WPB, WPC, WP5, WP9 WP11, WP12, WP22, WP91 and so on.
In these standard Grade WPB is the most common material used for medium and high temperature pipelines. W means weldable, P means pressure, B is grade b, refer to the minimum yield strength.
The source raw material of ASTM A234 WPB steel pipe fittings may be from steel pipe, such as
ASTM A106 Gr.B
and C. Also from steel plate, as ASTM A285 Gr.C, ASTM A516 Gr 70, ASTM A572 etc.
ASTM A234 WPB steel pipe fitting chemical and mechanical features:
1) Grade WPB fittings made from the steel pipes or plates maximum C is 0.35%.
2) Forging fittings Carbon content 0.35% maximum and Silicon content 0.35% maximum, no minimum.
3) For each reduce of 0.01 of Carbon content, Manganese maximum content increase 0.06%, up to the maximum 1.35% for Mn.
4) Copper, Nickel, Niobium and Molybdenum sum content shall not exceed 1.00%.
5) Niobium + Molybdenum shall not exceed 0.32%.
Mechanical properties of ASTM A234 WPB pipe fittings:
Tensile Strength 60,000 pis 415 Mpa
Yield Strength 35,000 psi 240 Mpa
Pressures Ratings: 150LBS, 300LBS, 600LBS, 900LBS, 1500LBS, 2000LBS, 3000LBS to 9000LBS.
ASTM A234 includes seamless and welded pipe fittings:
For the seamless steel pipe fittings refers to the fittings raw material from the seamless steel pipes and tubes;Thus the welded steel pipe fittings covers the fittings raw material from welded steel pipes.
It shall be noted that,
ASTM A234 specification does not cover cast welding fittings or fittings machined from castings.
Steel pipe fittings manufacturing forming processes:
The manufacturing processes for pipe fittings includes forging and shaping operations. As well as pressing, hammering, piercing, extruding, upsetting, rolling, bending, fusion welding and machining. Or the processes of combination of two or more of these operations.
During the manufacturing steel pipe fittings, below activities shall be noted:
1) Injurious imperfections, welding defects shall be not created.
2) After shaping or forming the fittings in a suitable temperature, it shall be cooled in a appropriate environments to a temperature that below the critical range. And no defects shall be made during the cooling procedures. The cooling rapid shall be not more than in the air.
3) Suitable inspection shall be performed after manufacturing. (Hydrostatic test, hardness test, tensile test etc)
Alloy steel pipe fittings grades in ASTM A234
The alloy steel pipe fitting is fabricated with alloy elements in such as Chrome, Molybdenum, Nickel alloy, Hastelloy alloy, Monel, Inconel, and etc. To get a higher pressure ratings, better strength, good corrosive resistance, and longer durability. It is widely used in oil and gas pipelines, chemical industries, power plants, nuclear power sites, and in server conditions.
Alloy steel pipe fittings includes buttweld fittings, alloy steel long radius bend, alloy steel forged fittings and so on.
The alloy steel buttweld fittings adopts ASTM A234 standard, has WP1, WP5, WP11, WP12, WP22,WP23 and WP91 grades. Class level in CL1, CL2, CL3.
ASTM A234 alloy steel pipe fittings includes alloy steel elbows in long and short radius, alloy steel eccentric & concentric reducer, alloy steel caps & crosses, alloy steel couplings, alloy steel tees, alloy steel nipples, alloy steel caps and etc more forms. It has seamless, welded and fabricated types.
For alloy steel forged fittings, it adopts ASTM A182 standard refers to steel pipe flanges. Material standard in ASTM A182 F1, F5, F9, F11 Class 1, F12 Class 1, F22 Class 1 ETC.
Chemical Composition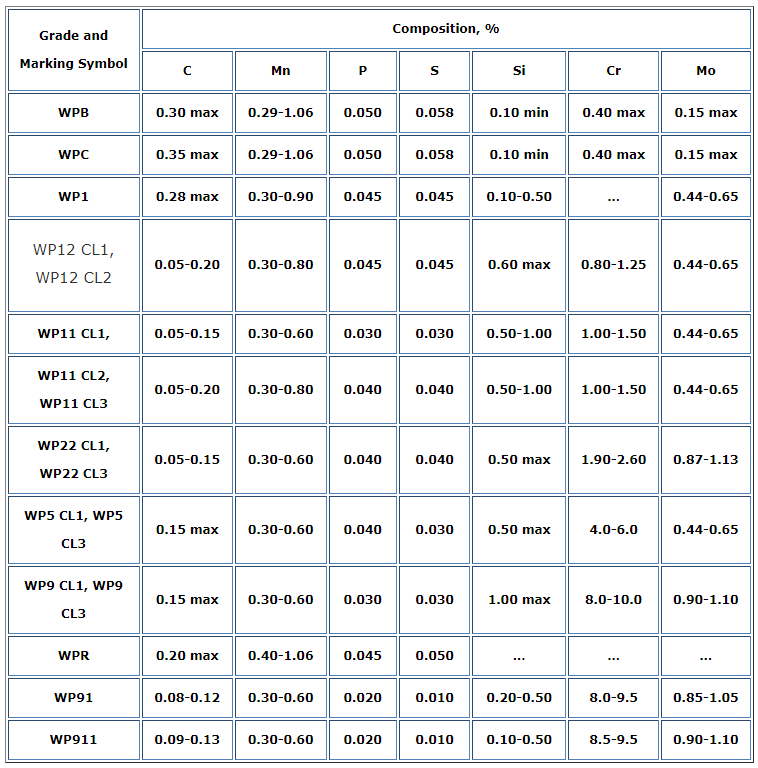 Tensile Requirements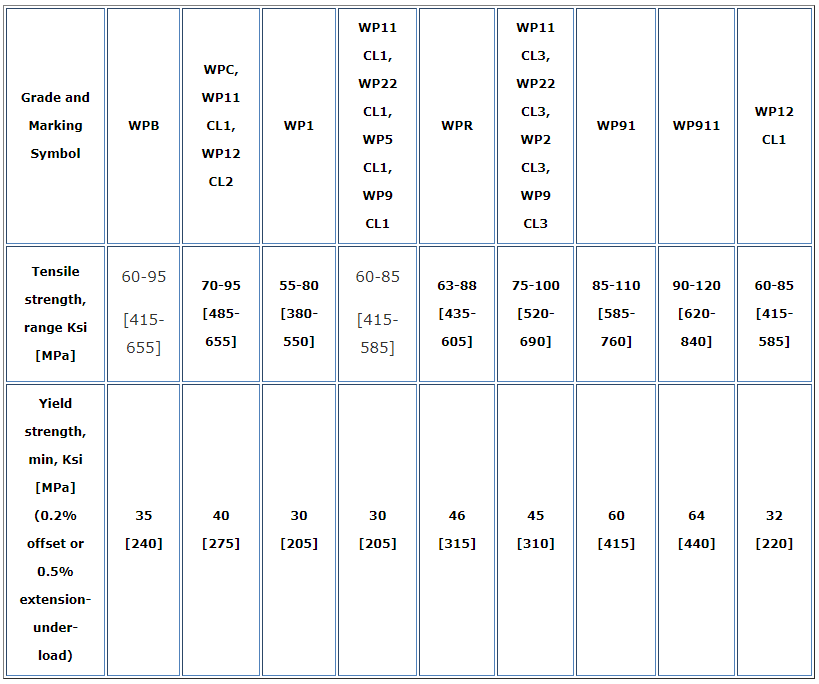 Information taken from a google search.