The straight seam high frequency welded steel pipe (
ERW welded pipe
) has advanced forming technology, reliable quality, good welding position, stable welding parameters, fast welding speed and high output. The equipment and technology of the entire production line are at the current international first-class level.
The high frequency straight seam welded pipe mill is used to level the fixed strip after slitting line, and entry it to forming machine, bend to open pipe by roller, melt the strip edges through the high frequency current, squeeze and weld the pipe to be closed by squeeze roll.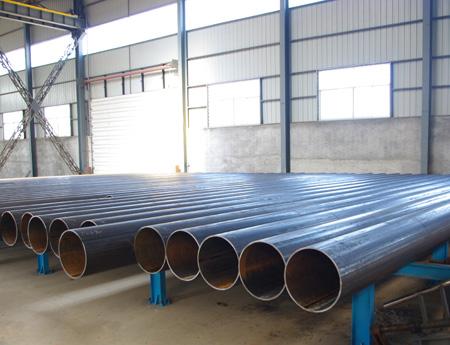 Features:
(1) The springback and residual stress of the longitudinal high-frequency welded steel pipe are small during the forming process.
(2) The deformation and hardening effect is small, and the geometric dimensions are accurate after being rounded, which is beneficial to ensure the quality of construction and welding.
(3) Longitudinal high-frequency welded steel pipe has good weld bead shape, undercut is not easy to appear, and internal and external welding is not correct.
(4) The weld bead of the straight seam steel pipe is distributed at a point on the circumference, so the weld can be placed in a favorable position according to the requirements of use.
Uses: Mainly used for the transportation of onshore and offshore oil and gas, coal slurry, ore slurry media and pipelines for offshore platforms, power stations, chemical industries and urban building structures.

Tips: ASTM A53 Gr.B is the grade in ERW high frequency welded pipe, divided into A and B grades.

ASTM is only a set of specifications. ASTM steel pipe A53 A corresponds to the Chinese standard GB8163 raw material is 10# steel,
and A53 B corresponds to the Chinese standard GB8163 raw material 20#.
For example: ASTM (standard) A53 (grade) gr (abbreviation of grade) b (grade B)